Before you hit the slopes to give snowshoeing a try, you're going to need a pair of snowshoes. But, how do you choose? Snowshoes a little bit interesting compared to other gear products you would use outdoors. But, if you don't get a pair that's reliable and fits you well, this sport can go from fun to failure really quickly. We're all for making sure you have the best experience you can outdoors. But, in order to do that, you're going to need to have the best snowshoes to accompany you.
Try one of these:
1. L.L. Bean Green Mountain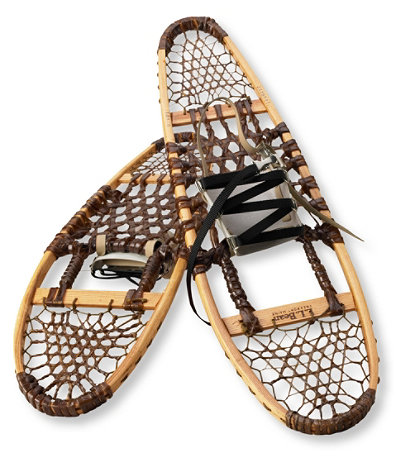 If you're looking to snowshoe the classic way, then the L.L. Bean Green Mountain snowshoes will take you back in time. The design is very close to that of the original snowshoe, made with traditional craftsmanship and natural materials. Take these through thick woods to easily conquer flat to rolling terrain.
Price: $329
2. MSR Lightning Ascent
The MSR Lightning Ascent are one of the hottest snowshoes on the market when it comes to icy terrain. These snowshoes take the design way past just the crampons with serrated edges that give these snowshoes their name. They are freeze resistant and great for mobility. Best of all, they're lightweight, so you can bring them anywhere your winter adventure will take you!
Price: $289.95-299.95
3. Fimbulvetr Hikr Snowshoes
Made in Norway (where people obviously know snow well), the Fimbulvetr Hikr Snowshoes are like nothing you've ever seen before. The feather lightweight feature comes from the honeycomb design, which is incredibly modern and unique. Because of the light-weightedness, these snowshoes allow for quick movements but still bite down hard on snow. The thermoplastic elastomer helps these durable snowshoes last for a long time, even after using them in the most extreme temperatures.
Price: $270
4. Tubbs Mountaineer (Men's/Women's)
It's not easy to find snowshoes with specific designs for men and women. That's one reason the Tubbs Mountaineer are some of the best snowshoes out there. These are comfortable snowshoes as they allow you to walk while keeping your foot in its natural position. They are also versatile shoes, so you can use them season after season even in the most unchartered backcountry destinations.
Price: $269.96
5. Atlas Montane 30
Are those calves burning you while you snowshoe? We don't blame you. That's why you need a shoe with a heel lift, like the Atlas Montane 30. It's great for a mountainous terrain, so you can go places with these snowshoes without feeling the aches and pains. Sorry, ladies, this one only comes in a men's version right now, but Atlas has other great snowshoes for women, too.
Price: $199.95
Are you ready to strap on your new gear? Don't just buy any snowshoes. Go for the best snowshoes from the best brands, so you can be sure you'll get where you're going with all the comfort and support necessary.